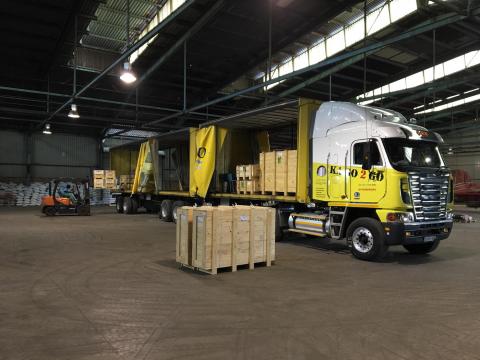 Daily Consolidation Gauteng – Copperbelt
Our consolidations division, running under the name KaGo 2 Go was established in the early 2000's when the company's founder (Ken Hall), who was at the time operating a crating and packaging business, noticed a high volume of small consignments being crated and packaged for delivery to the Copperbelt. Clearly there was a demand for part loads into Zambia and so KaGo 2 Go was started (with the value added service of in house crating and packaging, of course, being offered to clients and this remains the case to this day). From humble beginnings, with only one 8 ton vehicle, KaGo 2 Go has gone from strength to strength and now average more than a load a day. The consol transport space is fast paced and requires meticulous planning and co-ordination. With multiple clients and entries per vehicle it is essential that each cog is well oiled and that information is passed on in real time. Our team is well trained and has the experience required to solve any and all issues that may present themselves along the route in order to get your consignment delivered in the shortest possible time.
What you can expect when sending a standard consol consignment with Ka Go 2 Go?
Day 1:

Deliver your goods to KG2G with original invoice and SADC if applicable (or arrange for us to collect).
A GRV (Goods Received Voucher) will be issued and your goods are then added to our loading schedule.
The goods will then be allocated to a load.

Day 2:

Your documentation is presented to SARS for processing.
The vehicle is loaded and sent over a weighbridge.

Day 3:

The documentation is finalized once received back from SARS.
The truck is dispatched.
Pre-Alerts are sent to clients and clearing agents for Pre-clearance to commence.

Day 4:

The truck is processed at GRB into Botswana.

Day 5:

The truck arrives at Kazungula Botswana Side.
The original documentation is sent to the relevant clearing agents on the Zambian side.
Final clearance commences.

Day 6:

The truck crosses to Zambian side.

Day 7-10:

Clearing continues and any physical inspections ordered by ZRA (Zambian Revenue Authorities) are conducted.
The truck is dispatched once clearing is completed and documentation is received back from ZRA.

Day 11:

The truck arrives in Lusaka for offloading.

Day 12:

The truck arrives on the Copperbelt for offloading.
We have a young and motivated staff who work very well as a team and understand the time sensitive nature of the service we offer our clients.
Mike Fraser heads up the ops and has been with Ka Go 2 Go since 2009. Judie van As handles the accounts and has done so for the last 10 years.
For any queries or to book a load, please find the relevant contact details below or simply make use of the contact form which can be found on this page.

Head office JHB:

+27 11 316 5003

Mike Fraser:

+27 79 569 4248

mike@greendoorlogistics.co.za

Judie van As:

+27 82 828 2392

judie@greendoorlogistics.co.za

Richard Hall (COO):

+27 83 278 3683

richard@greendoorlogistics.co.za
Click here to request a quote